The International Passive House Association

A global network for Passive House knowledge working to promote the Passive House Standard worldwide (see Mission and values)


Achieve Better Buildings Conference
03 - 04 May 2019 | Heidelberg | Germany
We cordially invite you to the Passive House Conference taking place 3 and 4 May 2019 in beautiful Heidelberg!
Solutions and prospects
* sustainable
* practical
* inspired
Two days of inspiring lectures, hands-on workshops, an accompanying exhibition, extensive networking opportunities, and a selection of excursions to see one of the largest Passive House district in the world and other Passive House buildings in Heidelberg!
And all this in one of the most beautiful cities in Germany!
More information click here!
__________________________________________________________________________
Heidelberg is already building better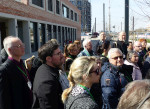 Heidelberg doesn't only have a beautiful historic city centre, it also boasts new urban areas that are worth seeing. The Bahnstadt in particular is striking: it is the largest Passive House district in the world. This makes Heidelberg an ideal venue for the Passive House conference "Achieve Better Buildings!". Besides expert talks and practical workshops, the Passive House Institute will also offer many new features in Heidelberg. In addition, there will be special offers for participating municipalities and housing associations.
Press Release
---
Passive House videos:
Passive House Explained in 90 seconds by Hans-Jörg Eich
Passive Passion, documentary by Charlie Hoxie