International Passive House Open Days 2018
Sharing Passive House experiences with others
From the 9th – 11th of November, Passive House buildings all over the world will open their doors to visitors as a part of the 15th International Passive House Open Days. By participating with your own Passive House home, office, or even construction site, you can share your experiences of living or working in a Passive House building and help spread the word of the benefits of these highly energy efficient buildings. Register your project now!
To thank you for your commitment, all participants, who registered their Passive House by 15/10/2018, will be entered into a prize draw to receive some fantastic prizes:
| | |
| --- | --- |
| | 1 x Energy balance and planning tool - Passive House Planning Package (PHPP) |
| | 1 x designPH – the 3D-Designtool for graphical data entry |
| | 1 x Participation on one day (Friday or Saturday) of the "Achieve Better Buildings" Passive House Conference in Heidelberg, Germany (4th - 5th May 2019) |
| | 1 x overnight stay for 2 people in a Passive House hotel in the Alps (excluding travel) |
| | 5 x "Passive House it's worth it" T-shirt (black, red or green) |
How to register your project
To participate in the International Passive House Open Days, please register your project with the International Passive House Database.
Registration is free of charge but first-time users will need to create an account. Once you have created an account you will be able to add new projects to the database and register those projects for the Open Days.
If you would like to open a Passive House building already registered with the Passive House Database, simply fill out the information on this year's Passive Open House Days viewing appointments and update your contact data if necessary.
Click here for detailed instructions
Visit a project
All participating projects and viewing details as well as guided tours are published on the Passive House Database. You can also use our world map below to find a participating project near you!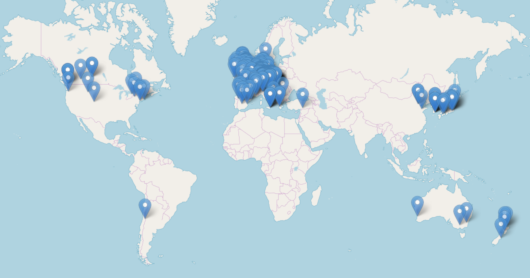 Should you have any questions, please feel free to contact iPHA at info@passivehouse-international.org.
Promotional material
Below are a number of banners, posters, flyers, and more available for you to download to help promote your own open day projects. Click on the text below if of the item which will open it, then simply download if a PDF, or Right Click on the image and select "Save image as..." and save on your computer.
Any natural person who has reached the age of 18 is entitled to participate. The participants agree to the conditions of participation. Participation in the raffle is free. All persons who have registered a passive house for a site visit by 15 October are eligible to participate. Only one entry in the raffle can be made per participant. The winners agree to the publication of their name. The winners will be notified in writing. Warranty claims regarding the profit are excluded from the Passive House Institute and the participating companies. To the full extent permitted by law, the provider assumes no liability for the loss of property, accidents, injuries and other consequences in any way related to this promotion. A legal claim to the advertised prices does not exist. The legal remedy as well as a cash payment of the profit or exchange of the profits are excluded. The raffle will take place after the event "International Passive House Open Days" (9-11 November 2018). Employees of the Passive House Institute and Explorer Hotels are excluded from participation.
Mid-year event

From 8 – 10 June 2018, the mid-year International Passive House Open Days, organised by iPHA and its international Affiliates, once again took place. The mid-year event allows participants to experience Passive House buildings during the summer (or winter) months as opposed to the main event in November.
This year, over 100 Passive House projects opened their doors to the public, with owners and architects sharing their experiences and showing what Passive House is all about.
Bicycle tour of Passive House multi-family buildings in Vienna Copyright: Passivhaus Austria