iPHA Webinars

The iPHA Webinars are 60-120 minutes in length and are online conferences during which viewers can interact with the speakers, asking questions or discussing the webinar's topics among themselves in the chat section.
Such events are a member-only benefit held via Webinarjam. Members receive an email from iPHA with the registration link and can sign up to take part in one of the two sessions offered.
Each webinar is offered twice (usually on the same day) to make it accessible to members across different time zones. Participants receive 2 further education credit points for each webinar they take part in. After the event, participants receive a link to re-watch the webinar if they so choose.

Webinars also have a ticketing system so that non-iPHA members can purchase access
to a webinar event that is of interest to them (30 euros).
Not a member yet? Sign up here and become a member and take advantage of the many benefits iPHA provides.
iPHA Webinars schedule | 2nd half of 2021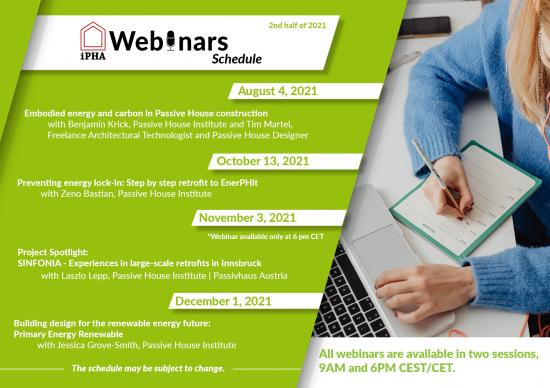 Click on the image to enlarge and download the iPHA Webinars schedule.
Upcoming webinar | Wednesday, November 3

"Project spotlight: SINFONIA - Experiences in large-scale retrofits in Innsbruck, Austria"
with Laszlo Lepp, Passive House Institute | Passivhaus Austria
The SINFONIA project was initiated in 2014 to implement large-scale, integrated, and scalable energy solutions in mid-sized European cities over a six-year period. The heart of this initiative was the cooperation between two pioneering cities – Bolzano, Italy and Innsbruck, Austria – to achieve 40-50% primary energy savings and increase the share of renewables by 20%. To reach these ambitious energy savings goals an integrated set of steps was used: the retrofitting of more than 100,000 square meters of residential and school buildings, optimization of the electricity grid, and implementing sustainable solutions for district heating and cooling by increasing the share of renewable energy.

Session 1: 6pm Frankfurt / 5pm London / noon New York / 3am Sydney
Registration can be done following this link (coming soon)