iPHA Q&A with PHI


Join the team from the International Passive House Association for their new series: iPHA Q&A with PHI!

Once a month, Carl and Giorgia will sit down with experts from different departments at the Passive House Institute to hear about the work they do, what they offer and how you can make the most of those offerings! The sessions will include an introductory presentation, followed by a Q&A session where you can get your questions answered!
The event is free of charge and attendees will be accredited 1 credit point for the renewal of the PH certifications.
Upcoming event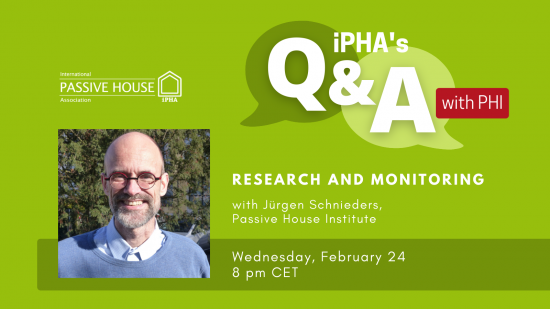 The fourth session will feature Jürgen Schnieders, from the Research and Monitoring department.
Learn the basics, find out what the Research and Monitoring department does!
Get your questions answered, submit questions in advance or ask them live during the session!
Find out more, hear about current research projects and available resources to expand your Passive House knowledge!
Event code: coming soon

For more information and registration click here.

Event recordings

Missed the last episode? The dedicated iPHA blog series showcases the highlights of what was discussed during the past sessions. If you want to get every detail, at the end of each blog post as well as in the YouTube playlist here below you can rewatch the past episodes.
November 9, 2020
iPHA Q&A with PHI: Building Certification with Corinna Geiger
December 9, 2020
iPHA Q&A with PHI: Component Certification with Edward Lowes
January 28, 2020
iPHA Q&A with PHI: Professional Certification and Training with Susanne Winkel
iPHA Q&A with PHI playlist