International Passive House Open Days: Online and interactive!

Are you enthusiastic about the Passive House concept and its advantages? Then take part in the Open Days and motivate others to join the movement by sharing your knowledge and experiences!
After the success of the first digital International Passive House Open Days in June, and due to the continuing COVID19 restrictions around the world, we have decided to make the November International Passive House Open Days from November 6-8 a digital event as well.
Interactive International Passive House Open Days
In order to make this instalment more interactive and international, we need your support! We are looking to put on live events over the International Passive House Open Days weekend including:
- Live tours
- Panel discussions and Q+A sessions with professionals
- Info sessions focussing on specific aspects of a building, for example, comparing different mechanical ventilation strategies or different types of balcony thermal bridge detailing.
- Any other ideas you may have!
These events will be put into a programme for the International Passive House Open Days weekend so that the community can make the most of the events on offer!
Register to take part:
Registering your building for the Passive House Open Days is easy! You can register your Passive House for the International Passive House Open Days via our Passive House Buildings database and we have created a short instruction manual for you here.
Participants from previous years only need to update the viewing times or insert their event information.
Submit your video tour!
In addition, we will also be accepting new video tour submissions.
Here are our video tour guidelines:
Format:
Video files: please send in .mp4 files only

Please insert a title screen with the Headline "International Passive House Open Days"

Length: We recommend videos be around 5 minutes long

Submission: Please upload your final videos to (insert Nextcloud link)

Release: Please be aware that we will publish your videos publically (on Youtube) to maximise exposure to the Passive House standard.

Please send in your submissions to info@passivehouse-international.org
If you haven't already sent a video tour, please do! They are a wonderful resource for the community to promote Passive House and better building!
Checklist:
While you are, of course, free to show off whatever parts of your building you consider most interesting , we have a checklist of features that make Passive Houses especially interesting:
Ventilation system: How does the air get into the building? How does the system work? How are your rooms ventilated?

Windows: What makes your Passive House windows special? How often do you open them (e.g. night ventilation)?

Shading: How does shading work for your building? Did you make any specific adjustments to optimise shading?

Temperature: How is the room temperature inside? Do you have a thermometer to show us?

Thermal envelope: How did you insulate your building? Did you use any interesting materials or building techniques to achieve a low energy demand and high thermal comfort?

Thermal bridges: What was your strategy for minimising thermal bridges?

Personal experience: What has your experience of living in a Passive House been? What is your favorite spot in your Passive House, what do you love most about it? Can you provide us with some anecdotes?
Show us what you love about your Passive House!

Prefer to offer in-person tours?
In light of Corona concerns, this year we are offering the opportunity for you to pre-record or offer live virtual tours of your Passive House. Of course, you can also offer in-person tours if you prefer. For you and your guests' safety, we ask you to do this only if you are able to observe social distancing and hygiene rules.
International Passive House Open Days Media Pack

We have put together a media kit so you can tell your friends that you're taking part in the Open Days. Simply add a picture of your Passive House building, your logo (if applicable), the Passive House building database number, a description of your event or where to find your video tour and post to social media!
Plan on taking part in the International Passive House Open Days? Share your experience on Twitter, Facebook, or Instagram with the hashtag #iPHopendays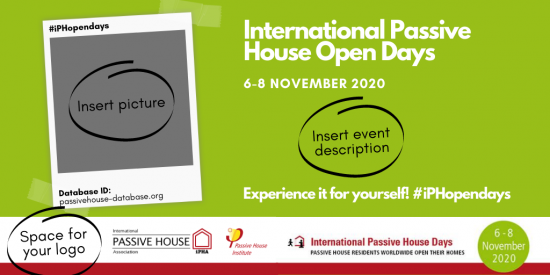 Find an event or tour
From September, participating Passive House buildings will be published with viewing and/or event information via our building database https://passivehouse-database.org. This list will be updated with new entries right up until the International Passive House Open Days weekend. We also include participating projects in our world map.
Click on the map below to find out about the participating Passive House projects near you!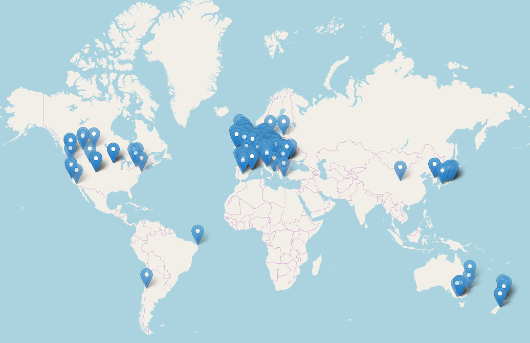 We will compile submissions into a programme for the weekend and advertise them on our website and social media channels. While videos and digital events are not a substitute for the real thing, they are the next best thing and we can't wait to see all the videos you send in!