We are delighted to invite you to our annual international networking dinner taking place on Saturday 29th April after the International Passive House Conference. This year's dinner will replace the regional dinners such as the NAPHN dinner, that followed previous conferences and aims to bring all the regions represented by our affiliates, partners and members under one roof.
The dinner will be taking place at Fuhrgassl-Huber, a traditional 'Heuriger' wine tavern in the hills surrounding Vienna. Come meet fellow Passive House professionals from around the world!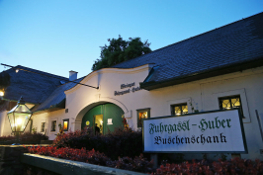 Tickets are €55 per person and include:
- A light and delicious buffet dinner
- Dessert
- Local wine, soft drinks and coffee
- Return shuttle bus
Book by 9th April to guarantee your place
Getting there and back
Shuttle buses to the venue will start boarding at 6.30pm outside Messe Wien Congress Centre. A return shuttle bus back to Messe Wien will be running every 30 minutes throughout the evening.
Questions?
info@passivehouse-international.org