International Passive House Days 2016: Online project registration now open
Fullscreen map of participating houses
Share your Passive House experience with others
From 11th – 13th November 2016, the International Passive House Days, put on by iPHA and its international Affiliates, will take place for the 13th year in a row. By participating with your own Passive House home, office, or even construction site, you can share your experiences and show what Passive House is all about. Spread the word and offer others the chance to experience the benefits Passive House offers first hand!
For those who would like to visit Passive House buildings during this year's Passive House Days, check out the International Passive House Database and the iPHA website for more information as the summer progresses!
Registration
To participate in the International Passive House Days, please register your project with the International Passive House Database. Registration is free of charge but first time users will be asked to create an account. If you would like to open a Passive House building already registered with the Passive House Database, simply fill out the information on this year's Passive House Days viewing appointments and update your contact data if necessary.
All participating projects and viewing details as well as guided tours will be published on the Passive House Database as of 1 September 2016. Should you have any further questions, please feel free to contact iPHA at info@passivehouse-international.org.
Passive House stands as the solid basis for a sustainable energy future, combining superior user comfort and healthy indoor environments with minimal energy use. Offering long-term savings, Passive House is the affordable solution for all those looking to build. Please help us raise awareness by opening your buildings to the public.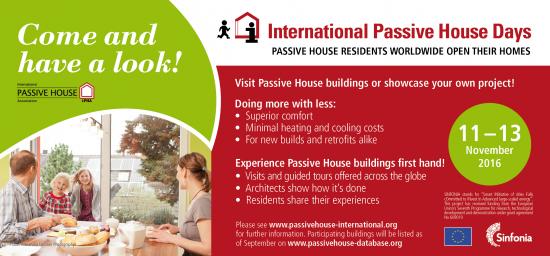 Materials to download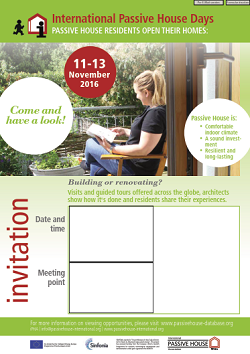 Flyer PH Days 2016 - small [pdf, 310kB]
Flyer PH Days 2016 - print [pdf, 3.4MB]
Poster PH Days 2016 - blank [pdf, 159kB]

Poster PH Days 2016 - with text [pdf, 166kB]

Poster PH Days 2016 - with text and picture [pdf, 166kB]

Post Card PH Days 2016 [pdf, 98kB]