2013 Passive House Days reviews

From 8 – 10 November 2013, owners and residents of Passive House buildings across the globe opened their homes and offices to share their experiences and show what Passive House is all about.
iPHA would like to thank its national and regional Affiliates and partners as well as all those who opened their doors for helping make the 10th International Passive House Days such a great success!
Below, you will find impressions and reviews of regional events put on by iPHA's Affiliates and other Passive House organisations around the globe.
The potentially best attended building participating in this year's International Passive House Days was a new build in Surrey, BC, Canada. The single family house, designed by Marken Projects Design Studio, attracted some 500-600 visitors in one single day.
Photo: www.passivehouse-database.com
The Czech Passive House Days, coordinated by the Centrum pasivního domu was a huge success with a total of 75 houses participating buildings, including family houses, administrative buildings, training and educational centers and a brand new kindergarden, attracting more than 1,400 visitors (twice as many as last year).
Two guided tours were offered in the Prague and Brno regions. The event was well perceived both by potential building owners and investors as well as construction professionals eager to learn more about Passive House functionalities.
The French Passive House Association, La Maison Passive, was happy to report over 2300 visitors to a total of 85 buildings this year. For more information on the event in France, please see the La Maison Passive website.
Coordinated by iPHA's German Affiliate, IG Passivhaus Deutschland, the 10th German Passive House Days were a huge success. Owners and residents of almost 300 Passive House buildings opened their doors, attracting several thousand visitors.
One home owner welcomed 280 people in the course of the weekend. The anniversary edition of the Passive House Days was kicked off at a Passive House office building in Wiesbaden which has participated in the Passive House Days every single year since its premier in 2004. Read press release (in German)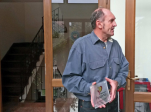 Hungary
iPHA's Hungarian Affiliate PAOSZ celebrated the Passive House Days just after their Hungarian Passive House Conference, held 6 November in Budapest. All throughout the country, 19 buildings opened their doors to an interested public. Here, József Nagy, owner of the Budaörs, a Certified Passive House, proudly displays his plaque to a crowd. Photo: László Szekér

Coordinated by iPHA's Affiliate ZEPHIR, the Italian Passive House Days were a great success with numerous groups visiting various buildings and construction sites from Trentino-Alto Adige to Sicily. Featured in the November 7th edition of the national newspaper "Il Sole 24 Ore", the event attracted several hundred people nationwide. On 10th November, the owners of the newly certified Ecohotel Bonapace in Nago Torbole (TN), were presented their brand new Passive House plaque by ZEPHIR's Francesco Nesi. Photo: Diego_Lavina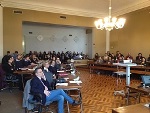 Cesena's Passive House Days were kicked off by a "regional building forum" put on by PassREg partner Cesena on Friday, 8 November. Italian Passive House buildings, including those participating in the Passive House Days, were presented at this event which was attended by 80 people. On Saturday morning, two Passive House buildings, located in San Mauro Pascoli and Montiano, opened their doors to the general public. Over 20 visitors came to see both buildings, including politicians and representatives from the Cesena's Urban Development Department. Read more (in Italian)
Ireland
In Ireland, as in some other countries, the event overlapped with a similar Nearly Zero Energy building open days event. Over 650 people visited 60 different properties of which 10 were certified Passive House buildings. Visitors to the properties included members of the public and trade professionals, who were extremely interested in finding out about the Passive House standard and the benefits of living/working in such a low energy, comfortable and healthy environment. Read more
The Dutch Passive House Days were organised by iPHA's PassREg partner DNA in de bouw. The 12 participating buildings in the regions of Ede, Nijmegen, Tiel Wierden and Woerden were visited by approximately 250 people.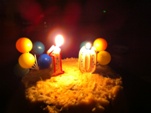 United States
The Everhard residence in Portland, Oregon, was among several Passive House buildings in the North West that opened their doors for the 2013 Passive House Days. The family baked a chocolate "birthday" cake to celebrate the 10th anniversary of the event, thus heating the house passively. The event was a great success. "We had far more media interest and visitors than in past years", said the owners. Photo: Tad Everhard
Meanwhile, in Minnesota and Wisconsin, 2 Passive Houses and one EnerPHit retrofit attracted crowds of about 50 each. Over the last 4 years of participation in the Passive House Days, an impressive 2000 people in total have visited the "Passive House in the Woods", one of the projects taking part this year in the Midwest.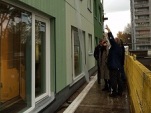 UK
In the UK, 20 project opened their doors to some 600 visitors over the course of the weekend. The range of projects included new build private houses, a mixed tenure housing scheme, a primary school and retrofits of private houses and a social housing block. Read more. Photo: Tanisha_Raffiuddin