2015 Passive House Days
From 13 to 15 November 2015, almost 700 Passive House buildings in 30 countries opened their doors to introduce the public to the future of energy-efficient housing. Several thousand visitors across the globe made their way to participating buildings and got first-hand experience from both architects and Passive House residents about the tangible benefits of the highly energy-efficient Passive House Standard.

iPHA would like to thank all Affiliates, partners and participants of the 12th International Passive House Days for sharing their time and knowledge to make this event such a tremendous success!
Within the context of the Passive House Days, Passive House related events such as conferences, seminars, workshops and guided tours, were offered by iPHA's partners and members across the globe. Some of these events are listed in the table below.
Passive House Days Events



Country




City/Region




Details




Link/Contact




Austria




Seestadt Aspern (Vienna)/international (online)




Live stream panel discussion on the following topics:

-Can energy efficient construction be affordable?

-Passive House as a solution for the COP 21 UN Climate Change negotiations in Paris

Tours visiting Passive Houses in Austria





(in German)

(in German)




California




Palo Alto




-Building Carbon Zero California - PHCA's Annual Conference (Nov. 13th)

-2015 PedalHaus Tour (Nov.14th)





Canada

Nationwide

Passive Houses opened for the tours across Canada

Czech

Nationwide

Opened Passive Houses and events

(in Czech)

France

Nationwide

Many Passive House projects opened across the whole country

(in French)




Germany




Nationwide various events

All buildings and houses open for Passive House Days available on www.passivehouse-database.org

Ireland

Cork

-Ireland (PHAI) has organised a tour to visit 2 properties on Saturday 14th Nov.

-See the Light Conference 2, 13th Nov, Cork Institute of Technology

Italy

Nationwide

Read more about Passive House days in Italy

(in Italian)

Japan

Nationwide

Passive House Days in Japan

(in Japanese)

Latvia

Nationwide





-A tour through the Passive House window production facilities as well as office building which contains Passive House components

-Opportunities to visit Passive House projects in Latvia

Read more information about the tour here (in Latvian)

Opportunities of viewing Passive House projects (in Latvian)

New York

New York State

Various events in Brooklyn, Manhattan, Queens, New Jersey, Long Island, Upstate New York and Connecticut

New Zealand

Nationwide

Many Passive Houses opened across the country

Oregon

Portland and Hillsboro

Various Passive House tours and open houses

Slovakia

Nationwide

A database with the opened Passive Houses in Slovakia you will find here

(in Slovakian)

Spain

Nationwide

Many Houses opened nationwide

(in Spanish)

Sweden

Natonwide

Various events and Passive House project viewing opportunities across the country

(in Swedish)

Switzerland


Volketswil (Bauarena Volketswil)

- Swizerland Energy Forum (Nov.13th)

-Building Contractor Seminar(Nov.14th)




Programs of events and further details Read (in German)

United Kingdom


Nationwide

Visit Passive House buildings across the UK




Washington

Washington

Washington with a PH open in Seattle
---
If you already enjoy the benefits of a Passive House or are currently building one, the International Passive House Association (iPHA) encourages you to open your home, office or even construction site for the 2015 Passive House Days and thus share your experiences with others from 13 to 15 November 2015. For architects, this event is the ideal chance to convince potential clients! It's not too early to start so get involved and register your buildings today!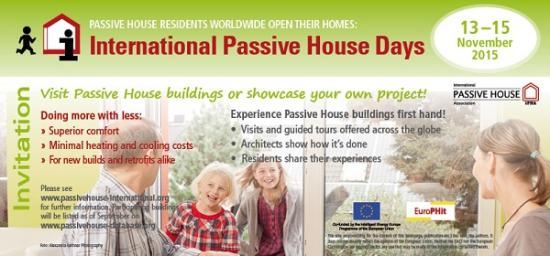 The Passive House Database provides the basis for the Passive House Days. Guide to registration

Your building needn't be certified to be on the database - all that is required is a valid PHPP calculation showing it meets the Passive House or EnerPHit criteria (for retrofits). Even if the building doesn't quite meet the criteria though, it may qualify as a low energy building - so register today!
Materials to download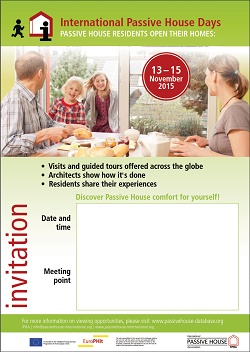 Poster PH Days 2015 - blank [pdf, 110kB]

Poster PH Days 2015 - with text [pdf, 550kB]

Poster PH Days 2015 - with text and picture [pdf, 559kB]

Baner PH Days 2015 [jpg, 308kB]
---
The International Passive House Days is put on by the International Passive House Association (iPHA) as a part of the EuroPHit and Sinfonia projects, supported in part by Intelligent Energy Europe.
The sole responsibility for the content of this webpage lies with the authors. It does not necessarily reflect the opinion of the European Union. Neither the EASME nor the European Commission are responsible for any use that may be made of the information contained therein.