Thanks for a wonderful conference!
Concluding the 24th International Passive House Conference
The 24 th International Passive House Conference, which took place this year for the first time ever as a virtual conference, has come to a close! Thank you to all the speak­ers, poster presenters, ex­hib­it­ors as well as to our part­ners and sup­port­ers and last but not least to all of you who par­ti­cip­ated in our 24th In­ter­na­tion­al Pass­ive House Con­fer­en­ce!
What's next?
Looking ahead to the 25th Annual Passive House Conference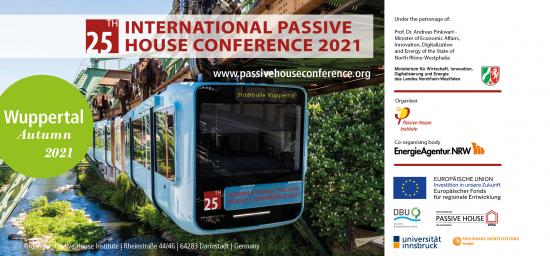 We are happy to an­nounce: In co­op­er­a­tion with the En­er­gieAgen­tur.NRW, the Pass­ive House In­sti­tu­te is in­vit­ing every­one to Wup­per­tal in Autumn 2021. The 25th International Passive House Conference will also include the presentation of the 2021 Passive House Award. Entries for the Passive House Award can be submitted until 1 June 2021. We look forward to seeing you there!
Want to stay on top of all the upcoming conference news? Subscribe here for the conference newsletter and/or any other newsletters that pique your interest.