2010 Passive House Award Book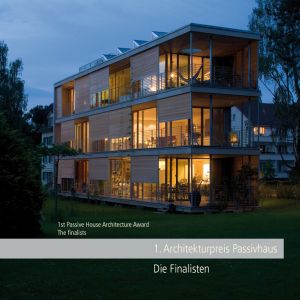 The photographic volume "1st Passive House Architecture Award – the Finalists" documents the 10 award winners and the 14 finalists who reached the final round of the 2010 Passive House Architecture Award. It has been published by the Passive House Institute with the kind support of the German Federal Ministry for Transport, Building and Urban Development. "The results of the competition organised by the Passive House Institute show that a high standard of energy efficiency and good architecture are not mutually exclusive. On the contrary, they can complement each other splendidly", says the German Federal Minister of Building Dr. Peter Ramsauer in the foreword. "The Passive House concentrates on the structural details and remains consciously aware of every architectural style, as it is beautifully clear from this photographic volume", adds Prof. Dr. Wolfgang Feist.
Download a preview of the book [pdf 3.4MB]
Overview of the winning projects [pdf 1.8MB]
Information on the travelling Architecture Award Exhibition
Order the Passive House Award book now!

iPHA is happy to distribute free copies of the Passive House Award book to our iPHA Members, for the price of shipping and handling only (see pricing below).
The book is also available for purchase to the general public. Costs are contingent on the amount of books ordered and do not include shipping and handling. Please note that the minimum amount of books that may be ordered is 5.
Simply contact us with your request at: info@passivehouse-international.org
(Re: Architecture Award book).
The 2014 Passive House Award book detailing all 21 winners and finalists of the 2014 Passive House Award, kindly sponsored by the German Federal Ministry for Economic Affairs and Energy, will be published by the end of 2014.
Book prices (for general public)

| | | | |
| --- | --- | --- | --- |
| Amount of books | 5 copies | 15 copies | 25 copies |
| Price | 25 EUR + S&H* | 50 EUR + S&H* | 60 EUR + S&H* |
Shipping and handling
| | | | |
| --- | --- | --- | --- |
| | 5 copies | 15 copies | 25 copies |
| EU | 12 EUR | 20 EUR | 25 EUR |
| Europe (Non-EU)* | 17 EUR | 33 EUR | 38 EUR |
| World** | 17 EUR | 38 EUR | 48 EUR |
| Rest of the world | 17 EUR | 43 EUR | 58 EUR |
*(as a rough guide) Åland Islands (Finland), Kosovo (Serbian province), Andorra, Croatia, Albania, Liechtenstein, Armenia, Livigno (Italy), Azerbaijan, Macedonia, Belarus, Melilla (Spain), Mount Athos (Greece), Moldavia, Bosnia-Herzegovina, Montenegro, Campione d'Italia (Italy), Norway, Ceuta (Spain), Russian Federation, Faroe Islands (Denmark), San Marino, Georgia, Switzerland, Gibraltar (United Kingdom), Serbia, Greenland (Denmark), Turkey, Iceland, Ukraine, Channel Islands (United Kingdom), Vatican City, Canary Islands (Spain), Cyprus (Northern Cyprus), Khazakhstan
**(as a rough guide) Egypt, Kuwait, Algeria, Lebanon, Bahrain, Libya, Iran, Morocco, Iraq, Oman, Israel, Saudi Arabia, Yemen, Syria, Jordan, Tunisia, Canada, United Arab Emirates, Qatar, United States of America
The winners' and finalists' project entries are also presented in iPHA's Architecture Award travelling exhibition. For more information on the exhibition, please click here.