iPHA
The global Passive House platform

Passive House stands for healthy, comfortable living and impressive energy efficiency, regardless of the regional climate. Within the last several years, Passive House has rapidly increased in popularity, with over 39,600 units certified according to the strict Passive House Institute certification criteria representing a total floor area of 3,660,000 m² TFA (as of 07/2023). Many of these quality-assured examples are included in the Passive House database, which documents more than 5,600 Passive House buildings.
It is in everyone's interest that we safeguard the high quality associated with the Passive House Standard while fostering a greater public understanding of its significance internationally. The International Passive House Association (iPHA) was formed by the Passive House Institute in order to advance the Passive House Standard worldwide as well as the quality for which it stands.
Click on the images to download them.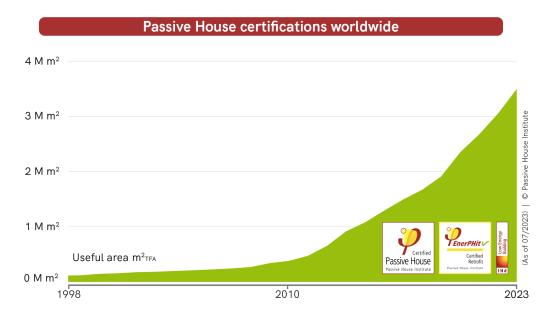 The International Passive House Association

iPHA is a global network of Passive House stakeholders including architects, planners, scientists, suppliers, manufacturers, contractors and property developers. It works to promote the Passive House Standard and foster a greater public understanding of its significance. Encouraging the exchange of Passive House knowledge, iPHA communicates with the media, the general public and the entire range of construction professionals.
iPHA's web presence aims to help you
learn about completed Passive House projects and resident experiences
find experts and partners for your own Passive House project
exchange your experiences and questions with architects, engineers, scientists and property developers
profit from information on the advantages of the Passive Houses Standard as well as the most up to date Passive House news
iPHA and its German affiliate, IG Passivhaus Deutschland, are communication initiatives of the Passive House Institute, Darmstadt, Germany, ensuring the highest level of technical expertise, professional competence, independence and objectivity.